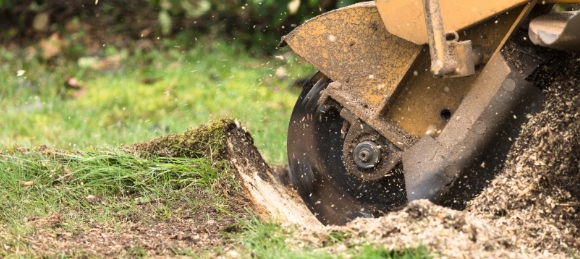 Looking for complete stump removal services?
Contact Tree Cleanup Specialists today for a hassle-free and insured service. Our team will work with you to schedule a convenient time and ensure the job is done right. With our state-of-the-art tools, including a stump grinding machine, we guarantee that no evidence of the removed tree will remain.
Stump Grinding
Get rid of those unsightly old stumps with Tree Cleanup Specialists' stump grinding services! Stumps not only detract from the appearance of your yard, but they can also pose a hazard for children playing and damage your lawn equipment. Additionally, old decaying stumps attract insects to your yard and can lead to new tree growth. Our team has the tools and expertise to safely and efficiently grind stumps into mulch, leaving your yard looking clean and beautiful. Don't wait years for stumps to decay on their own
Old tree stumps can attract ants, beetles, termites, and other wood-boring pests that can spread to your home and cause expensive damage.
That's why it's important to have your tree stump removed. At Tree Cleanup Specialists, we offer stump grinding services using a high RPM machine that processes the stump into mulch. Our experts can grind the stump up to 4-6 inches below your existing soil grade and can also provide root pruning services to stop the spread of troublesome roots. With our many years of experience and proper licensing and insurance, you can have peace of mind knowing your stump removal needs are in good hands. Contact us today for a free estimate.
Contact us today to receive a free estimate for our stump grinding services
20+ Years Of
Experience
Professional, Reliable & Competitively Priced.
Largest Array Of
Quality Equipment
With Australia's Largest Selection of Quality Equipment.
Qualified Licensed &
Insured
Our team is qualified, licensed & insured.